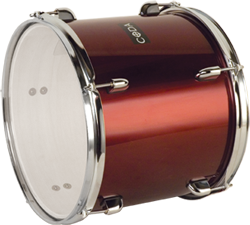 About CODA
Established in 2000 as a hard hitter in the music industry, CODA offers some of the best set of drums, drum hardware and percussion instruments in the world of rhythm. CODA's collection of products is reliable and affordable, especially for beginning drummers who don't want to compromise or limit their scope when it comes to how powerful or complete their sets will be.
Known for kits that include everything from a trust-worthy snare drum to cymbals and thrones, CODA offers packages that are perfect for students and professionals. The Generation series of CODA drums, including kits Alpha and Beta, all have a complete set of drums with features appealing to any drummer.
Packaged in colorful boxes, CODA kits are a familiar face in stores across the country, giving first-time buyers a great deal on a set they can grow with. CODA's series of double-braced hardware provide everything from bass pedals and heavy-duty snare stands to machine hammered bronze cymbals, offering only the best in accessories to serious drum enthusiasts.
CODA is a tradition in the making. The best is yet to come from the brand that's always a few beats ahead of the competition.